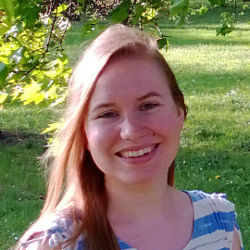 Karoliina Ignatius, M.Sc.
PhD Student, CLOUD-TRAIN Early-Stage Researcher
Leibniz Institute for
Tropospheric Research
Permoserstraße 15
04318 Leipzig
Phone: +49 341 2717-7165
Mail: ignatius [at] tropos.de
Room: 1.05 (Building 23.5)
Department:
Experimental Aerosol and Cloud Microphysics
Workgroup:
Research areas & research interests:
Ice nucleation: experimental studies and modelling
Cloud microphysics and aerosol-cloud interactions
Statistical analyses and uncertainty estimation
Short CV
2007-2010 Undergraduate studies in Mathematics, Astronomy and Latin at
the University of Helsinki, Finland
2010 B.Sc. in Mathematics
2010-2012 Studies in Church Music at Sibelius Academy, Finland
2010-2013 Master's Degree Programme in Atmosphere-Biosphere Studies,
University of Helsinki, Finland
2013 M.Sc. in Physics
Thesis title: Building a theory for heterogeneous ice nucleation
2013 - PhD student at Leibniz Institute for Tropospheric Research
(TROPOS), Germany
Publications:
Henning, S., Dieckmann, K., Ignatius, K., Schäfer, M., Zedler, P., Harris, E., Sinha, B., van Pinxteren, D., Mertes, S., Birmili, W., Merkel, M., Wu, Z., Wiedensohler, A., Wex, H., Herrmann, H., and Stratmann, F. (2013): Influence of cloud processing on CCN activation behaviour in the Thuringian Forest, Germany during HCCT-2010, Atmos. Chem. Phys. Discuss., 14, 1617-1645, doi:10.5194/acpd-14-1617-2014, 2014.
Augustin, S., Wex, H., Niedermeier, D., Pummer, B., Grothe, H., Hartmann, S., Tomsche, L., Clauss, T., Voigtlaender, J., Ignatius, K. and Stratmann, F. (2013): Immersion freezing of birch pollen washing water, Atmos. Chem. Phys., 13, 10989-11003, 10.5194/acp-13-10989-2013.