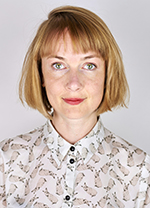 Liina Tõnisson, PhD

Leibniz Institute for
Tropospheric Research
Permoserstraße 15
04318 Leipzig
Phone: +49 341 2717-7383
Mail: liina.tonisson@tropos.de
Room: 206 (Building 23.1)
Function

Scientific Coordinator/Technology Transfer
Department
Directory
Publications
Maicher L., Mjos K.D., Tonisson L. (2018) Intervention Opportunities for Capacity Building in Technology Transfer. In: Granieri M., Basso A. (eds) Capacity Building in Technology Transfer. SxI - Springer for Innovation / SxI - Springer per l'Innovazione, vol 14. Springer, Cham Link: https://link.springer.com/chapter/10.1007/978-3-319-91461-9_3
Tonisson, Liina; Millien, Raymond and Lutz Maicher. Shortcomings on the Market for Intellectual Property. Working Paper 1/2016. Fraunhofer Center for International Management and Knowledge Economy. Leipzig, 2016. Link
Tonisson, Liina and Lutz Maicher (2015). Clean Technology Industry: Relevance of Patents and Related Service Providers. In: Promoting Sustainable Practices through Energy Engineering and Asset Management. Hershey, PA: IGI Global. 263-286. Link
Dr. Lutz Maicher, Head and Liina Tonisson, Researcher, Innovative Transfer Systems Fraunhofer MOEZ, Leipzig, Germany (2014): How to find the right IP expert for you?
Prilop, M.,Tonisson, L., Maicher, L. (2013): Designing Analytical Approaches for Interactive Competitive Intelligence IN: International Journal of Service Science, Management, Engineering, and Technology (IJSSMET) Volume 4, Issue 2. 12 pages. Link
Bartsch, F.; Prilop, M.; Tonisson, L.; Maicher, L.: How e-humanities help to save the world – the case of the IP industry base. Presentation at the 2012 Leipzig eHumanities Seminar.
Prilop, M.; Tonisson, L.; Maicher, L.: Service profiling - a method for data-driven competitive intelligence in service industries. In: Meyer, K.; Abdelkafi, N. (Eds.): Smart Services and Service Science - Proceedings of the 4th International Symposium on Services Science, Leipzig (Germany), September 25, 2012, Leipziger Beiträge zur Informatik, Band 36, LIV/InfAI, Leipzig. ISBN: 978-3-941608-23-8. Link to Paper.
Bader, M., Gassmann,O., Jha, P., Liegler, F., Maicher, L., Posselt, T., Preissler, S., Ruether, F.,Tonisson, L., Wabra, S. (2012): Creating an organised IP rights market. Intellectual Asset Management July/August 2012. Link
Tonisson, L., Maicher, L. (2012): Patents, their importance and valuation methods. Fraunhofer MOEZ Working Paper, issue 1/2012.
Ding, Fei, Kinh, Bui Duc, Tonisson, Liina, Mao, Limin, Ohya, Shohei (2012): Green Energy development and technology transfer in China and India. Journal of International Development and Cooperation. Vol. 19, No.2.pp.13-24. Link