Position paper of the Gesellschaft für Aerosolforschung on understanding the role of aerosol particles in SARS-CoV-2 infection
Many scientific studies now show that viruses can spread via aerosol particles. But what exactly is an aerosol? An aerosol is a mixture of air with solid or liquid particles. And it is manoeuvrable, constantly changing, almost impossible to control. Aerosol particles have become known to the public especially as a carrier of corona viruses. But how do you deal with this knowledge and how should you act? With the support of more than 185 international experts, the Gesellschaft für Aerosolforschung has now compiled the current state of knowledge and recommendations for protection against the virus.
Among the signatories are also many aerosol researchers from TROPOS. One of the authors is Dr Birgt Wehner from TROPOS, who is Secretary General of the Gesellschaft für Aerosolforschung (GAeF) and the European Aerosol Assembly (EAA).
Position paper & press release of GAeF:
https://www.info.gaef.de/positionspapier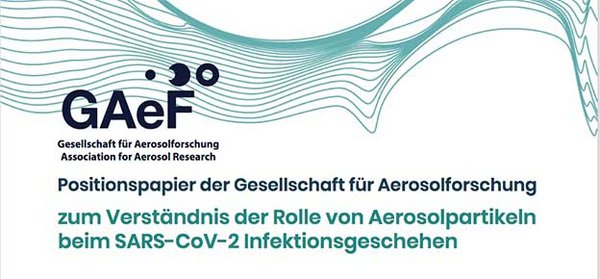 Position paper of the Gesellschaft für Aerosolforschung on understanding the role of aerosol particles in SARS-CoV-2 infection. Source: GAeF