Leipzig Graduate School for Aerosols, CLouds, and Radiation
The "Leipzig Graduate School for Aerosols, Clouds and Radiation (LGS-CAR)" was initiated by a Leibniz project in a competitive procedure (SAW procedure) within the framework of the Pact for Research and Innovation for the targeted promotion of young scientists in 2012 and continued after the end of the funding period.
Motivation
Tropospheric particles play an important role in many scientific fields, from air quality and chemical processes of atmospheric gases and aerosols to cloud formation and precipitation and climate change.
The relevant processes are highly complex and require expertise in various fields such as aerosol and cloud physics, precipitation, remote sensing, fluid dynamics, meteorology in general, and atmospheric chemistry.
The aim of this graduate school is to combine this expertise of partners at the University of Leipzig and the Leibniz Institute for Tropospheric Research in order to offer PhD students an interdisciplinary teaching and research environment focusing on a joint scientific field, namely a better understanding of physical and chemical processes in the field of clouds, aerosols and their radiative properties and effects.
Basic Components

Research Training
Advanced Training Modules, winter semester 2023: 27/28 November 2023 "Remote Sensing of Cloud Development."
PhD lectures, 3 presentations on the state of the art with subsequent discussion

External Training Program
Contributions at conferences
Summer or winter schools
Soft-skill courses, at least 2 courses, Graduate Academy Leipzig
Research stay abroad
LGS-CAR Intersection Workshops, annually

10 credit points are acquired in each of these two sections.
Goal
The Leibniz Institute for Tropospheric Research, together with the Leipzig Institute for Meteorology, the Wilhelm Ostwald Institute for Physical and Theoretical Chemistry, and the Institute for Analytical Chemistry, provides a unique research and teaching environment covering all aspects of observing and modeling physical and chemical processes of aerosol and cloud particles in the Earth's atmosphere.
There is a wide range of chemical and physical laboratories and field-based research infrastructures and campaign activities where almost all scientific questions concerning the evolution, processing, transport, cloud interaction of tropospheric aerosol particles and their effects on weather and climate can be investigated.
The participating institutions have a world-leading reputation for conducting large-scale national and international field campaigns on land, in the air, and in marine environments. Modeling capabilities cover all scales, from molecular response pathways to regional aerosol-cloud interactions to global assessments of the role of aerosols in climate and climate change. Ground-based remote sensing resolves aerosol vertical structure and aerosol-cloud interactions at a variety of globally distributed stations. Satellite-based remote sensing provides the spatio-temporal variability of aerosols, clouds, aerosol-cloud interaction, and their radiative effects.
Currently, eight professorships provide unique academic support in the fields of atmospheric chemistry, physics, and modeling.
Research areas of the LGS-CAR

Aerosols
Particle formation and growth
Emission and Deposition
Chemical processing
Air quality, health and technology

Clouds
Ice nucleation
Dynamics, turbulence
Mixed-phase cloud processes
Chemical multiphase processes

Radiation

Interactions of clouds, aerosols, and radiation
Radiation forcing of clouds
Reflective properties of surfaces
Synergetic use of ground-based remote sensing and satellite observations

Focuses
Dust belt of the northern hemisphere (from the Cape Verde Islands to Central Asia)
Urban areas
Polar atmospheres
Trade wind region and ITCZ
Marine atmospheres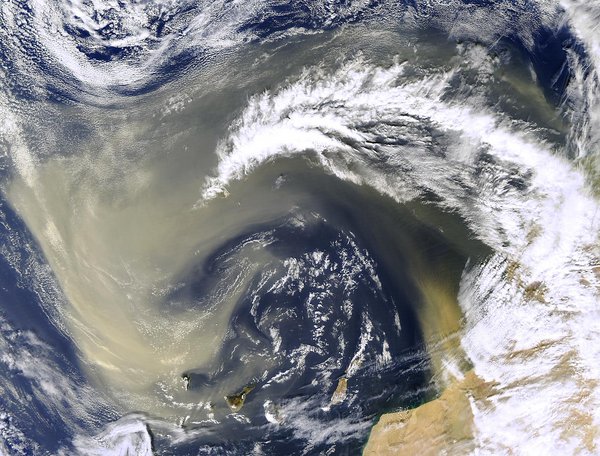 Mineral dust over the Atlantic Ocean, Source: NASA