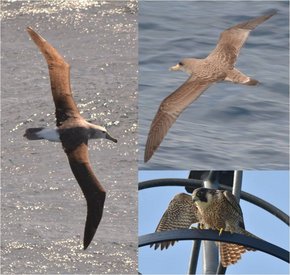 Fig. 1: (left) Shy albatross Thalassarche cauta, (right top) Cory´s shearwater Calonectris diomedea, (right bottom) peregrine falcon Falco peregrinus. © Simon Jungblut, PolE.
PS83 (ANT-XXIX/10) - Weekly Report No. 5
From the Gulf of Biscay to Bremerhaven
April 7 - 13, 2014
During our fifth and final week, we first entered the Gulf of Biscaya. Luckily, we were spared by the storms which are typical for this region. We then continued through the British channel and the North Sea, and finally reached the Weser and Bremerhaven. Our cruise has thus reached its final destination, and Polarstern is back in its home port. Within the context of long-term observations to study the at-sea distribution of marine top predators, Polarstern is visited regularly by the PolE group (Laboratory for Polar Ecology, Head: Prof. Claude R. Joiris) to record marine birds and mammals in polar regions. However, the long north-south transects through the Atlantic Ocean are also of interest: they are used to investigate factors which determine the distribution from seabirds and marine mammals across the Atlantic Ocean, and cover the distributional areas of a lot of different bird and mammal species. ANT-XXIX/10 is the fourth trans-equatorial expeditions of RV Polarstern used to collect bird and mammal observation data for this area. On such large scale, very different biogeographical zones can be recognized with differences in ecological structure, in prey availability and thus in upper level predator abundance. The main water masses and fronts can be defined on the basis of hydrological factors registered on board Polarstern on a continuous basis: salinity, water temperature and depth. Only three days after leaving Cape Town, we reached the northern distribution limit of the albatrosses. The most frequent species of this family during our cruise was the shy albatross Thalassarche cauta (Fig. 1 left). The seabird showing the largest south-north distribution was Cory´s shearwater Calonectris diomedea (Fig. 1 right top) from 33° South to 38° North. Occasionally vagrants appear quite far offshore and utilize ships as resting places. Amongst others we observed a juvenile peregrine falcon Falco peregrinus travelling a few days with us on Polarstern (Fig. 1 right bottom).