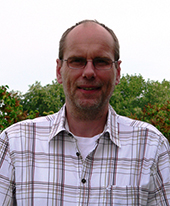 Dr. Frank Stratmann
Leibniz Institute for Tropospheric Research
Permoserstraße 15
04318 Leipzig
Phone: +49 341 2717-7142
Mail: frank.stratmann at tropos.de
Room: 005 (Building 23.3)
Function
Group Leader Experimental Cloud Physics
Department
Research areas & research interest
aerosol cloud interactions
cloud microphysics and turbulence interactions
heterogeneous ice nucleation
cloud droplet activation
computational fluid and particle dynamics modelling
Current projects
AC3 B04 (DFG-TR 172 Project): Spatial distribution, sources, and cloud processing of aerosol particles.
ACDC2 (NSF-Project): Preliminary studies for the construction of an aerosol cloud turbulence chamber.
ACTRIS (EU Project)
ATMO-ACCESS (EU-Project): Develop and implement sustainable access to the LACIS-T research infrastructure.
CLOUD-MOTION (EU, FP7, Marie Curie Project): Cloud condensation nuclei and ice nucleating particles at the CLOUD chamber at CERN.
CIRRUS-HL (DFG-PP 1294 Project): Physical and chemical properties of cloud particle residuals and ice nucleating particles associated with clouds at high latitudes from mixed-phase to cirrus levels. (HALO-CVI-HERA, HALO 2021, CIRRUS-HL)
DACAPO-PESO (in-situ): Long-term in-situ studies on the physical properties of aerosols (focus on CCN and INP) in the Southern Ocean region
goSouth (BMBF-Project): Model-assisted vertical in situ study of aerosols, and aerosol-cloud-turbulence interactions in the Southern Hemisphere marine boundary layer.
VACCINE+ (DFG-Project): Variation in Antarctic cloud condensation nucleus (CCN) and ice nucleus (INP) concentrations and properties at NEumayer III compared to their values in the Arctic at Villum Research Station.
IDEFIX (DFG-Project): Quantification of secondary ice formation mechanisms: the fragmentation of freezing droplets vs. droplet-ice particle collision.
STEP (EU Marie Curie Project): Solving The Entrainment Puzzle.
Completed projects
BACCHUS (EU FP7 project)
CLOUD-12 (BMBF project)
INUIT (DFG Research Unit)
LACCT (WGL PAKT project)
LGS-CAR (WGL PAKT project)
CLOUD-ITN (EU FP7 Marie Curie project)
CLOUD-09 (BMBF project)
EUROCHAMP (EU FP7 Infrastructure project)
EUROCHAMP II (EU FP7 Infrastructure project)
DFG Collaborative Research Center (SFB 209)
Teaching
Teaching at the University of Leipzig, Faculty for Physics and Geoscience, Meteorological Institute
Memberships and Boards
| | |
| --- | --- |
| 07/2008-07/2016 | Board member of the International Conference on Clouds and Precipitation |
| 02/2008-12/2013 | Workpackage leader EU-FP7 Infrastructure Project EUROCHAMP II |
| 07/2004-08/2009 | Board member of the International Conference on Nucleation and Atmospheric Aerosols |
| 09/1998-09/2002 | Board member of the German Aerosol Research Society (GAeF) |
| 09/1993-09/2001 | Head of the Working-Group "Aerosol Modelling" within the European Aerosol Assembly (EAC) |
| 09/1992-09/1993 | Coordinator of the European Aerosol Conference Duisburg |
Curriculum vitae
Academic qualification
| | |
| --- | --- |
| 1992 | PhD in Electrical Engineering from the University of Duisburg, Institute for Aerosol Measurement Technology (summa cum laude), 1992, Prof. H. Fissan |
| 1986 | Diplom (M.Sc.) in Mechanical Engineering from the University of Duisburg |
| 1979-1986 | Study at the University of Duisburg, Germany |

Research Experience
| | |
| --- | --- |
| 01/2013-07/2017 | Head of Experimental Aerosol and Cloud Physics Department, Institute for Tropospheric Research, Leipzig, Germany |
| 08/2006-12/2006 | Visiting Professor at the University of Helsinki, Department of Physics, Atmospheric Sciences, Helsinki, Finland (Host: M. Kulmala) |
| since 06/1998 | Head of the Cloud Group at the Leibniz Institute for Tropospheric Research, Leipzig, Germany |
| since 04/1994 | Senior scientist at the Leibniz Institute for Tropospheric Research, Leipzig, Germany |
| 06/1992-03/1994 | Postdoctoral scientist at the University of Duisburg, Institute for Aerosol Measurement Technology, Germany (Head: H. Fissan) |
Publications