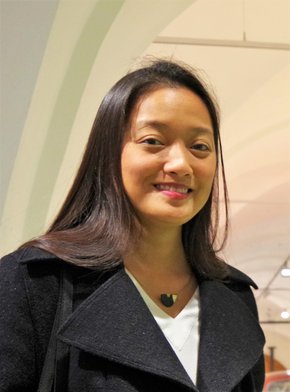 Dr. Honey Dawn C. Alas
Leibniz Institute for Tropospheric Research
Permoserstrasse 15
04318, Leipzig
Phone: +49 341 2717-7372
Email: honey.alas[at]tropos.de
Room: 211 (23.1)
Function:
Scientific staff
Department:
Atmospheric Microphysics
Research areas and interests:
Urban air quality
Mobile monitoring or air pollutants
Air pollution mapping
Outdoor exposure assessment
Exhaust and non-exhaust emissions
Current projects:
Einsatz von miniaturisierten und kostengünstigen Feinstaubmessgeräten zur Erhöhung der räumlichen Dichte von Luftqualitäts-Messnetzwerken (Fine dust measuring network) - SAB
Health Index for Dust and Associated Microbes (DUSTRISK) – Leibniz Collaborative Excellence 2020
Smart URBan Solutions for air quality, disasters and city growth (SMURBS/ERA-PLANET) – Horizon 2020
Completed projects:
EUROCHAMP-2020 – Horizon 2020
Carbonaceous Aerosols in Rome Environs (CARE-2017) Experiment, Rome, Italy
Einfluss der Luftqualität (insbesondere Ruß) auf Klimawandel und Kimaanspassung, Leipzig and Dresden, Germany
Metro Manila Aerosol Characterization Experiment (MACE-2015), Manila, Philippines
Educational background
| | |
| --- | --- |
| 2006-2010 | Bachelor of Science in Applied Physics, Major in Instrumentation at University of Santo Tomas, Manila, Philippines |
| 2012-2016 | Master of Science in Atmospheric Science at Ateneo de Manila University, Quezon City, Philippines |
| 2016-present | PhD candidate at Leibniz Institute for Tropospheric Research, Leipzig, Germany |
Publications:
Alas, H., et al. Pedestrian exposure to black carbon and PM2.5 emissions in urban hot spots: new findings using mobile measurement techniques and flexible Bayesian regression models. Journal of Exposure Science and Environmental Epidemiology, 2021, https://doi.org/10.1038/s41370-021-00379-5
Alas, H., et al., Performance of microAethalometers: Real-world field intercomparisons from multiple mobile measurement campaigns in different atmospheric environments, Aerosol and Air Quality Research, 20: 2640–2653, 2020. https://doi.org/10.4209/aaqr.2020.03.0113
Alas, H., et al., Methodology for high-quality mobile measurement with focus on black carbon and particle mass concentrations, Atmospheric Measurement Technique, 12, 4697–4712, doi.org/10.5194/amt-12-4697-2019, 2019
Alas, H., et al., Representativeness of PM2.5 mass concentrations and black carbon near traffic and urban background monitoring stations, Gefarhstoffe Reinhaltung der Luft, 79(6), 217-226, 2019.
Alas, H., et al., Spatial Characterization of Black Carbon Mass Concentration in the Atmosphere of a Southeast Asian Megacity: An Air Quality Case Study for Metro Manila, Philippines. Aerosol and Air Quality Research, 18(9), 2301-2317. doi:10.4209/aaqr.2017.08.0281, 2018
Kecorius, S., Madueño, L., Vallar, E., Alas, H., et al., Aerosol particle mixing state, refractory particle number size distributions and emission factors in a polluted urban environment: Case study of Metro Manila, Philippines. Atmospheric Environment, 170, 169-183. doi: 10.1016/j.atmosenv.2017.09.037, 2017.
Costabile, F., Alas, H., et al., First Results of the "Carbonaceous Aerosol in Rome and Environs (CARE)" Experiment: Beyond Current Standards for PM10. Atmosphere, 8(12). doi:10.3390/atmos8120249, 2017.