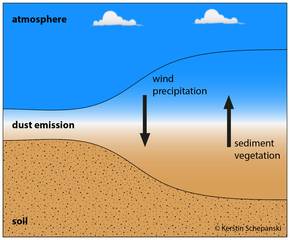 Mineral dust is an important player in the climate system, but its spatio-temporal variability is not fully understood. The emission of dust particles as first element of the atmospheric dust life-cycle can be seen as a process allocated at the interface of atmosphere and soil surface. For dust emission, sediments suitable for wind erosion has to be available. At the same time, wind speeds at near-surface levels have to be sufficiently strong to mobilize and entrain dust particles into the atmospheric boundary layer. However, there are places, where dust emission is limited due to the supply of sediment prone to wind erosion, and places, where dust uplift is limited by wind speeds.
Dust sources and dust emission are the beginning of the atmospheric dust life-cycle. As origin of dust particles entrained into the atmosphere, the knowledge on when-is-where-how-much-dust emitted is crucial for determining the transport pathways of dust into remote areas such as overseas to Europe or the Americas. Also, estimates on dust impacts on the atmospheric radiation budget and nutrient cycles rely on an accurate knowledge on the atmospheric dust concentration and its spatio-temporal variability.
In order to characterize the atmospheric dust life-cycle and to research the spatio-temporal variability of desert dust, we investigate different aspects of and impacts on the dust life-cycle:
The dust source per se: Which soil characteristics are apparent and are there changes over time?
Processes fostering dust emission and the development of dust storms: Which meteorological conditions (weather) provide wind speeds sufficient high to uplift dust particles and to distribute them within the atmosphere?