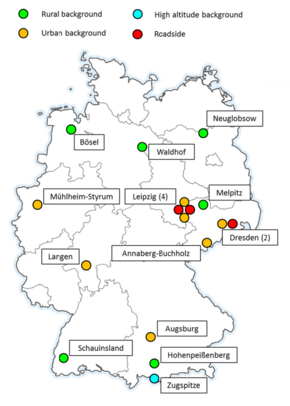 Source: W. Birmili/TROPOS
Ultrafine aerosol particles (Particles with diameter < 100 nm) are associated with adverse health effects, particularly respicatory and cardiovascular disease.
GUAN is a cooperative network that explores the scientific basis for a health-related and climate-relevant assessment of ultrafine atmospheric particles.
The key measurement parameters are the particle number size distribution and the soot particle mass concentration (BC).
At present, the network comprises 17 atmospheric research and measurement stations. The data are used nor only for the analysis of ultrafine particle concentrations and processes, but also to validata atmospheric dispersion models and statistical forecast models. The data may also serve, in the future, as a critical data base for a possible regulation of ultrafine particles and soot within the framework of EU air quality regulations.