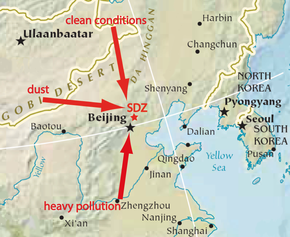 Fig. 1: Main air flow conditions (red arrows) at the GAW regional station Shangdianzi (SDZ).
Measurements in Asia
In October 2004 first Raman lidar measurement abroad with Polly were performed at Xinken (22.6N, 113.6E), Pearl River Delta (PRD), China. Haze layers were observed up to 1.5-3km height during the diurnal cycle. The particle optical depth (532nm) ranged from 0.3–1.7 and was, on average, 0.92. The haze–layer mean extinction–to–backscatter ratio was 35 to 59sr, on average, 47sr (Ansmann et al., 2005, "High aerosol load over the Pearl River Delta, China, observed with Raman lidar and Sun photometer"). Lidar data inversion revealed particle effective radius of around 0.24µm, mean imaginary parts of around 0.02i and the single scattering albedo as low as 0.75 at 532-nm wavelength. (Mueller et al., 2006, "Strong particle light absorption over the Pearl River Delta (south China) and Beijing (north China) determined from combined Raman lidar and Sun photometer observations"). The lidar measurements were continued in Beijing, China in January 2005. Almost clean air masses were observed throughout the measurements of the Beijing campaign. These air masses originated from arid desert–steppe-like regions (greater Gobi area). Extinction values usually varied between 100 and 300 Mm-1, and the lidar ratios were considerably lower (compared with PRD values) with values mostly from 30 to 45 sr (average of 38sr). Gobi dust partly influenced the observations. Unexpectedly low lidar ratios of approximately 25 sr were found for a case of background aerosol with a low optical depth of 0.05 (Tesche et al., 2007, "Particle backscatter, extinction, and lidar ratio profiling with Raman lidar in south and north China", Inversion: Tesche et al., 2008, "Retrieval of microphysical properties of aerosol particles from one-wavelength Raman lidar and multiwavelength Sun photometer observations"). In 2009/2010 TROPOS returned to the area of Beijing, again. In the framework of the European Aerosol Cloud Climate and Air Quality Interactions (EUCAARI) project one-year Raman lidar observations of profiles of aerosol extinction and backscatter coefficients at 532nm were performed at the Global Atmospheric Watch (GAW LINK) station of Shangdianzi.