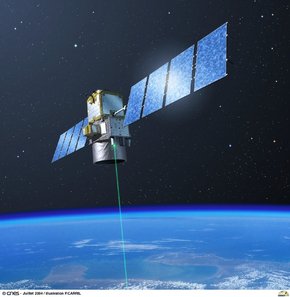 Fig. 1: CALIPSO's laser probing Earth's atmosphere. Credits: P. Carril / CNES
The spaceborne lidar CALIOP (Cloud-Aerosol Lidar with Orthogonal Polarization) onboard the polar-orbiting satellite CALIPSO (Cloud-Aerosol Lidar Infrared Pathfinder Satellite Observations) [Winker et al., 2007] provides vertically resolved information on aerosol and cloud parameters on a global scale since June 2006 and measurements are still ongoing. CALIOP is a backscatter lidar operating at 532 and 1064 nm. For the data analysis of measurements of this simple backscatter lidar general assumptions on a fixed lidar ratio (extinction-to-backscatter ratio) are required in order to obtain the particle extinction coefficient or the AOT (Aerosol Optical Thickness). From advanced ground-based lidar measurements optical parameters (like the lidar ratio) characteristic for different aerosol types can be derived without assumptions of predefined lidar ratios.
The results of ground-based lidar measurements are used to validate space-based lidar observations and to verify the satellite-based aerosol typing in detail. This work shall also support the harmonization of continuous global observations from space with different sensors over the next decade.