Worldwide Aersosol Characterization
At TROPOS a small sophisticated lidar system called Polly has been developed and permanently improved to perform automated stand-alone lidar measurements in remote areas and to fulfill latest requirements of aerosol profiling in scientific networks, e.g., EARLINET. Several Polly systems have been setup and successfully operated worldwide with international partners for field campaigns and scientific lidar networks. The data from the automated lidars is directly transferred to a server and quicklooks and level 1aerosol products are provided in near-real time at the PollyNet Website. In this way, a network of Polly systems with homogenous data analysis structure called PollyNET was established by TROPOS and the collaborating institutes.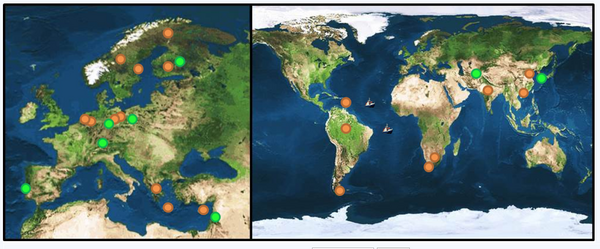 Literature
Baars, H. et al., An overview of the first decade of PollyNET: an emerging network of automated Raman-polarization lidars for continuous aerosol profiling, Atmos. Chem. Phys., 16, 5111-5137.
Engelmann, R. et al.: The automated multiwavelength Raman polarization and water-vapor lidar PollyXT: the neXT generation, Atmos. Meas. Tech., 9, 1767-1784.
Althausen, D. et al. (2009): Portable Raman Lidar Polly(XT) for automated profiling of aerosol backscatter, extinction, and depolarization. Journal of Atmospheric and Oceanic Technology, 26(11), 2366-2378.