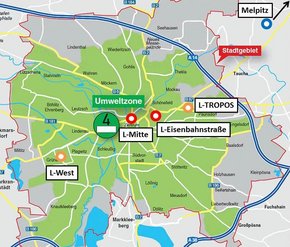 In many European cities, air quality is not sufficient to satisfy the EU legal limit value criteria for particulate matter (PM10) and NOx.
A main source of particulate matter in European cities is motor traffic.
Low Emission Zones (LEZs) are an attempt by cities to facilitate the conversion of the vehicle fleet towards low-emission vehicles. The main target is to reduce emissions originating from vehicular exhaust gas.
In 2010, TROPOS started a close cooperation with the Saxon State Office for Environment, Agriculture and Geology (LfULG Dresden). The goal has been to analyse particulate matter properties in Leipzig by specialised measurements of:
Black carbon mass concentrations (MAAP)
Particle number size distributions (5-800 nm)
These measurements are particularly sensitive to particles contained in the vehicular exhaust gas, and therefore a valuable addition to the suite of legal standard PM measurements.