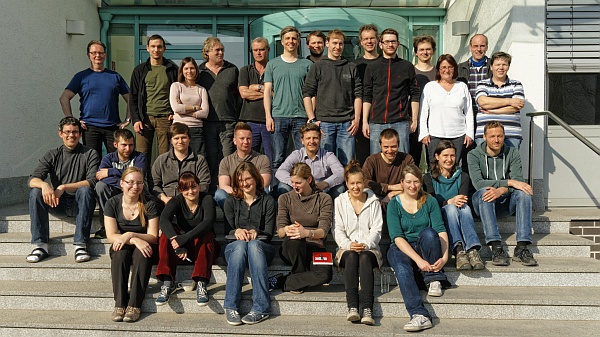 Abteilung Experimentelle Aerosol- und Wolkenmikrophysik am TROPOS. Source: Tilo Arnhold/TROPOS, 13.3.2014.
Our department conducts process and long-term studies of atmospheric aerosols, and their interactions with clouds.
We characterise aerosol particles, cloud droplets and their processes, under controlled laboratory conditions as well as during numerous atmospheric field campaigns.
We are involved in worldwide research infrastructure projects and continuous atmospheric observation networks. This ensures that scientific results can rely on a great statistical basis.
We are a centre of competence for the development and application of aerosol particle and cloud droplet measurement techniques, their calibration and quality assurance.
Tropospheric Aerosols Workgroup
Tropospheric Aerosols Workgroup
The workgroup 'Tropospheric Aerosols' investigates physical and optical particle properties under laboratory and field conditions. Our goal is to improve the understanding of tropospheric aerosol processes, spatial and temporal aerosol trends, and the assessment of human particle exposure (ultrafine particles and soot) in urban areas. We are a center of competence for the technical development of physical and optical particle instrumentation, and their quality assurance.
WG Experimental Cloud Physics
WG Experimental Cloud Physics
In the cloud group, we examine interactions between aerosol particles and clouds. One focus is the formation and freezing of cloud droplets. Furthermore we conduct studies concerning the interaction between turbulence and clouds and the influence on cloud droplets. Our research consists of lab- and field studies which are accompanied by model simulations.