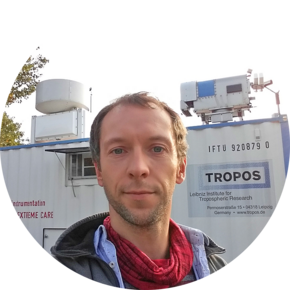 Dr. Patric Seifert
Leibniz Institute for Tropospheric Research (TROPOS)
Permoserstraße 15
04318 Leipzig
Germany
Phone: +49 341 27177080
Mail: patric.seifert@tropos.de
Room: 116 (Building 23.2)
Function
Scientific staff
Department
Remote Sensing of Atmospheric Processes
Group
Research areas & research interest
Ensure availability and continuity of the ground-based remote-sensing observations performed with the LACROS instrument suite
Investigation of the effect of aerosols on ice formation processes based on cloud and aerosol observations performed with LACROS
Evaluation of the effect of aerosol particles on the forecast skill of numerical weather forecast models
Operation and extension of the Cloudnet data processing scheme to derive continuous datasets of aerosol and cloud microphysical properties and type.
Work with students and performing outreach activities – aiming to show both: how TROPOS contributes to the understanding to aerosol-cloud interaction, and the vast carrier options one has in atmospheric sciences.
Current projects
DACAPO-PESO: Operation of LACROS in Punta Arenas, Chile, in the frame of the field experiment DACAPO-PESO of the Dynamics, Aerosol, Clouds And Precipitation Observations in the Pristine Environment of the Southern Ocean.
Polarimetry Influenced by CCN aNd INP in Cyprus and Chile (PICNICC): An assessment of hemispheric cloud contrasts in radar polarimetry and its relation to differences in aerosol load.
Spectrally resolved Polarimetric Observations and Modelling of Clouds (SPOMC): Toward the retrieval of hydrometeor ratio during onset of precipitation.
COALA-Continuous Observations of Aerosol-cLoud interaction in Antarctica
ATMO-ACCESS: Conception and realisation of a sustainable access to the atmospheric research facility LACROS
ACTRIS-D: Extension and implementation of ground-based remote sensing systems at the ACTRIS stations of TROPOS.
EXCELSIOR: Transfer of knowledge and technology in the framework of the implementation of the Eratosthenes Centre of Excellence (ECoE) in Limassol, Cyprus.
Cooperation with New Zealand aiming on the improvement of the understanding of inter-hemispheric contrasts in the properties of aerosols and clouds.
Completed projects
Measuring Systems (constructed and supervised)
Teaching
Lectures about the topic Cloud Radar in the module "Ground-based Radar and Microwave Remote Sensing" and "Active Remote Sensing with Lidar" for master students (Meteorological Institute, University of Leipzig)
Memberships/Boards
Since 2006: Deutsche Meteorologische Gesellschaft (DMG)
Since 2021: Ordinary Member of the DFG Transregio programme Arctic Amplification: Climate Relevant Atmospheric and SurfaCe Processes and Feedback Mechanisms (AC3)
Curriculum vitae
Academic qualification