Radiation Measurement Station / BSRN
Radiation Measurement Station
For a complete as possible measurement of radiation parameters the department of remote sensing developed a radiation measurement station. A longterm goal of the station is to sufficate the BSRN requirements and being operational wordwide.
The radiation measurement station comprises:
2 Pyranometer (Kipp&Zonen)
1 Pyrgeometer (Kipp&Zonen)
1 Pyrheliometer on a suntracker
2 fast Pyranometer
1 all-sky camera.
Furthermore there will be a rotating shadowband radiometer soon.
The station was operating within the HOPE measurement campaign in Melpitz in September/October 2013. First analyses show encouraging results.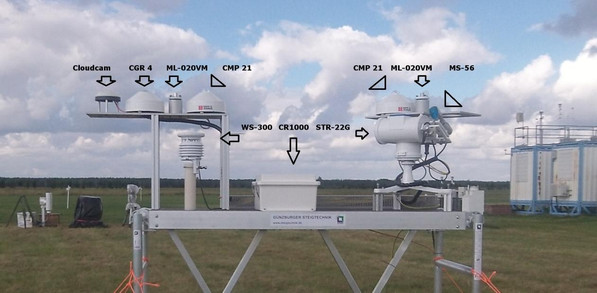 Radiation measurement station including several instruments. Source: Jonas Walther
Contacts
Dr. Hartwig Deneke
Group Leader
Jonas Witthuhn
Scientific staff
Elements of the radiation measurement station
| | |
| --- | --- |
| Instrument | Method |
| Pyranometer CMP 21, Kipp & Zonen | The thermoelectrical pyranometer CMP 21 is able to measure the global shortwave (solar) irradiance. A plate in the sensor absorbs the incoming electromagnetic flux and gets heated. Given this temperature change the irradiance can be retrieved. |
| Pyranometer ML-020VM, EKO Instr. | The photoelectrical pyranometer ML-020VM is able to measure the global shortwave (solar) irradiance. Through semi-conductor technology a measureable DC current results from the incoming electromagnetic flux. Thus one can retrieve the irradiance. |
| Pyrgeometer CGR 4, Kipp & Zonen | The thermoelectrical pyrgeometer CGR 4 is able to measure the global longwave (terrestrial) irradiance. A plate in the sensor absorbs the incoming electromagnetic flux and gets heated. With this change in temperature the irradiance can be retrieved. Because of the great effect of the ambient temperature, one has to correct the signal with the temperature of the sensor. |
| Pyrheliometer MS-56, EKO Instr. | With the thermoelectrical pyrheliometer MS-56 you can measure the direct shortwave (solar) Irradiance. A plate in the sensor absorbs the incoming electromagnetic flux and gets heated. With this change in temperature the Irradiance can be retrieved. |
| Suntracker STR-22G, EKO Instr. | The suntracker follows the sun in azimuth- an zenith-angle. Inside the suntracker a GPS-module is mounted to get an exact positioning as well as a sun position retrieval. The pyrheliometer is mounted at one arm of the suntracker, so that it looks exactly into the sun. There is also a plate on top of the suntracker for additional instruments. |
| Meteorological Station WS-300, Lufft | Inside the meteorological station there are some important meteorological sensors. With this station one can measure pressure, temperature and humidity. |
| Datalogger CR1000, Campbell Sci. | The datalogger communicates with all sensors from the station. According to a precise schedule, all important data is stored on the logger. With a PC this data can be retrieved from the logger. |