Another prerequisite for equal opportunities is the compatibility of work and family and thus better career planning.

Taking care of children or caring for relatives must not lead to disadvantages for those providing care. Rather, TROPOS therefore aims to make use of all possibilities for organizing working hours and location, to facilitate re-entry after leaves of absence, and to find individual solutions in career planning.

The certification to the audit "berufundfamilie" on May 25, 2011 documents the commitment of TROPOS to the compatibility of work and family both internally and externally. On this day, the official handover took place by the Parliamentary State Secretary in the Federal Ministry of Economics and Technology, Peter Hintze, in Berlin. The administrative manager of TROPOS, Mrs. C. Peter, received the certificate on behalf of TROPOS (Fig. 1).
On June 29, 2015 TROPOS was awarded the berufundfamilie audit certificate for the second time after a previous re-auditing process (Fig. 2). During the following consolidation phase, TROPOS continued to implement family-friendly measures in accordance with the target agreement in the audit and received the third certificate on June 27,2018 (Fig. 3).
On December 10, 2020 the careerandfamily audit certificate was confirmed following a successful dialog procedure. This means that the certificate, which is regarded as a seal of quality for a strategically designed family- and life-phase-conscious HR policy, receives its permanent character.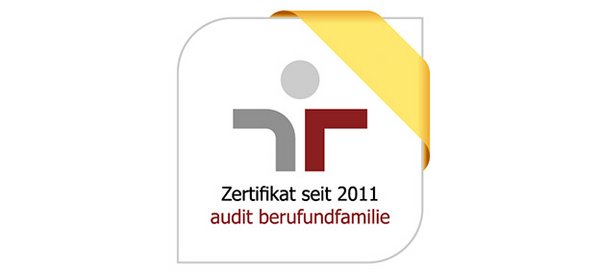 The "Work and Family" audit procedure is an assessment process in which completed and implemented family-friendly measures are evaluated and new measures are formulated. It is designed as a long-term process and, in addition to annual reporting, provides for a re-audit after three years to check the extent to which the goals the company has set itself have been achieved. The successful certification recognizes that TROPOS Leipzig has created good conditions for the compatibility of work and family with the existing regulations on flexible working hours and part-time work. By improving family-conscious framework conditions, the international competitiveness for attracting highly qualified personnel is to be expanded.